* the book is used in term 1
** the book is used in term 2
*** the book is used in term 3
In order to complete the curriculum additional instruction should be provided in the following areas.
Daily Lessons
Penmanship or Copywork
Math
Foreign language
Latin
Musical Instrument Practice
Weekly Lessons
Art
Grammar
Handicrafts
This site has many versions; it is preferable for a child to become accustomed to the language and flow of the KJV, as a familiarity with King James English will make other literature more accessible.
World History
Geography
The Travels of Marco Polo
Nature Study
Handbook of Nature Study by Anna Botsford Comstock
Science
Always Inventing by Tom L. Matthews
Christian Liberty Nature Reader 5 by Michael J. McHughn
Physics Lab in a Housewares Store by Robert Friedhoffer
Mathematics (choose one)
Developmental Mathematics by L.George Saad
Foreign Language
Latin
Poetry
Literature
Lad: A Dog by Albert Payson Terhune
Little Town on the Prairie by Laura Ingalls Wilder
The Long Winter by Laura Ingalls Wilder
The School of the Woods by William J. Long
For those on a strict budget trying to buy as few items as possible by making use of online resources and library books, recommended purchases are:
Handbook of Nature Study by Anna Botsford Comstock (to be used for all 6 years)
a math program
a version of Marco Polo if your library doesn't have it
Always Inventing by Tom Matthews
Christian Liberty Nature Reader grade 5
Physics Lab in a Houswares Store by Friedhoffer
a Latin/foreign language program
The Iliad - a modern version may be helpful; your library may have a copy
Laura Ingalls Wilder books if your library doesn't have them
Other books can be read online or borrowed from the library.
AmblesideOnline License
~ PLEASE READ IN FULL BEFORE USE ~
The booklists, schedules and articles on this website are subject to applicable copyright laws and the terms of this License. The copyright holders provide these materials to the general public free of charge solely through this website. You may use them legally within certain limits. This license is intended to guarantee your freedom to privately share this free curriculum in its pure and original form without charge, to personalize this free curriculum as needed for your own family's private use*, to maintain the integrity of the copyrighted materials, and to insure that the materials remain free for all users.
Altering these licensed copyrighted materials is not allowed. You may, of course, adapt the materials for your own private use with your family. You are permitted to privately distribute verbatim copies of this licensed material, printed directly from this website, at no monetary charge. Any distributed copies of this program must include this License Agreement and all copyright notifications, for the legal protection of all concerned. You may not charge a fee for this material. It is free and should remain free.
You are not authorized to distribute copies of these licensed materials on more than an individual basis, including, but not limited to, the inclusion of these materials within any form of distributed publication or generally accessible internet location, without the express written consent of the AmblesideOnline Advisory.
If the curriculum is modified and distributed in violation of this license, we want its recipients to know that what they have is not the original, so as to protect the reputations of the original authors. To that end, we encourage all users to compare any received copies of this curriculum to the materials posted by the Advisory at http://www.amblesideonline.org.
Anybody can and may use this curriculum by the terms of this license, but by choosing to use it, you are agreeing to never copyright it for your own use or to sell it. All copyrights of the authors of this curriculum are expressly retained and no ownership interest in such copyrights are transferred or assigned by reason of this license agreement. For the protection of each author and the curriculum as a whole, we want to make certain that everyone understands there is no warranty for this free curriculum.
*Private schools and umbrella schools seeking authorization to use or modify these materials will be considered on a case-by-case basis by the Advisory.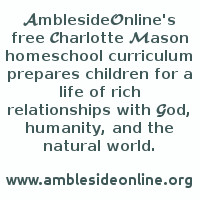 Top
Links
Copyright © 2002-2019 AmblesideOnline. All rights reserved. Use of this curriculum subject to the terms of our License Agreement.
Home